Stewart Ross has given us so much more than 'another travel book'; He has brought to life the people and the stories that draw the world to these enchanting places to begin with. Come join us on Stew's magical mystery tour… if you dare!  – Howie Klausner, Writer/Filmmaker (Space Cowboys-2000/The Identical– 2014)
I wanted to share my experiences in writing a series of niche travel guides starting with the one on the French Revolution.
For me, I wanted a vehicle to be able to reach out to an audience like you who share my passion for traveling and history.
Why Stew Ross: History Through Travel? It's very simple. The travel books are based on history and specific historical themes. They are walking tours.
What makes my walking tour books different than everyone else's? It boils down to the research that I do. Sure, it's easy to pick the tourist stuff and include it. Many of the walking tours I've seen advertised do just that. But how many of those walking tours "dedicated" to the French Revolution will take you to the location of the café that Jacques-Louis David stood (on the terrace) and sketched Marie Antoinette sitting in the tumbrel on her way to the scaffold? I will.
Are these books for you?
My books will be for people like me. In other words, people who like to travel the same way Sandy and I do.
We like to walk. No tour buses for us. Let's experience the smells of the city. Let's eat where we want to and experience the local menus. We're there to soak up the local atmosphere. Close down the local bistro bar? Request Edith Piaf songs to be played on the piano bar? You bet.
We like to walk the streets even though we're naïve about the dangers of being in that part of the city.
We like to visit historically significant sites, including buildings and places that are still in existence. Don't show us buildings that are replications. Don't care. But you can show us the place where a building once stood (even though a Laundromat now occupies that space).
We're the type of traveler that gets goose bumps while in William Shakespeare's boyhood home when we find out we're standing on the original wooden floor that he walked across as a twelve year old boy.
When we stand in front or inside a historically significant building we want to know what is original. What was added on and when?
When I'm told that the guillotine was erected in the Place de la Concorde, I want to know the exact spot where it stood. It's not good enough that it was "somewhere out there."
A traveler who likes to travel with a bent towards history or historical themes.
A person who has likely visited the city once or twice and now is looking for other things to do. They have seen the Eiffel Tower and the Louvre and now want to do some "off beat" stuff.
I believe I will be able to add a new dimension to your travel experience.
As always, your comments will be greatly appreciated. I am always looking for ideas for the next travel book.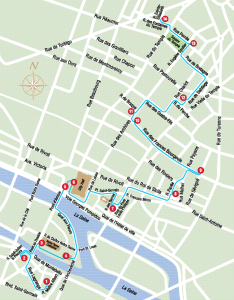 • Here's a FREE walk for you to keep and try on your next trip!
• Visit the Oldest Tree in Paris! Here's the map and click on the PDF.
• Click here for the PDF of OldestTreeParisWalk2. Just Print and go!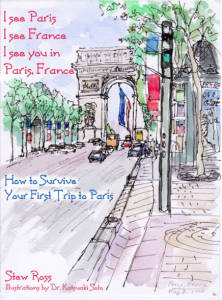 I See Paris, I See France, I See You in Paris France
How to Survive Your First Trip to Paris
 
 
 
 
 
 
 
 
 
 
Available Now!
Where Did They Burn the last Grand Master of the Knights Templar? A Walking Tour of Medieval Paris: 987 – 1547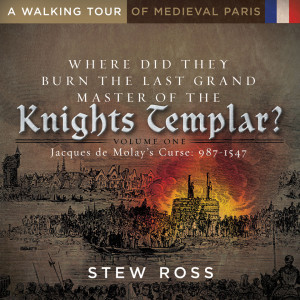 Coming Soon
Where Did They Put the Gestapo Headquarters? A Walking Tour of Nazi Occupied Paris: 1940 – 1944 
Where Did They Bury Jim Morrison, the Lizard King? A Walking Tour of Paris Cemeteries.
Copyright © 2017 Stew Ross