Books to Lose Your Head Over!
I highly recommend Stew's two walking-tour books on the French Revolution. I have spent the last several years reading about the Revolution as a hobby and wanted a book that would show me where important events took place. I took both volumes of WHERE DID THEY PUT THE GUILLOTINE? on a recent trip to Paris and completed several full tours and pieces of several others. Stew made the Revolution come alive for me! I saw little things I would never have otherwise noticed as well as the exact locations for all the big events. The tours are laid out carefully, with maps, directions, and pictures that are clear to even the most cartographically challenged. The well-written supporting narrative provides a terrific overview of the Revolution. – Mark Vaughan, Director, National Credit Union Administration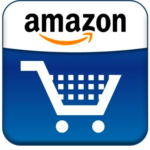 Walk with us in the footsteps of the revolutionaries, nobles, royalty, and citizens of the French Revolution. You will visit buildings, places, and sites significant to these events. In Volume Two, the Revolution has begun its dark descent culminating in the period called The Terror.

Includes custom maps, engravings, photography, and more!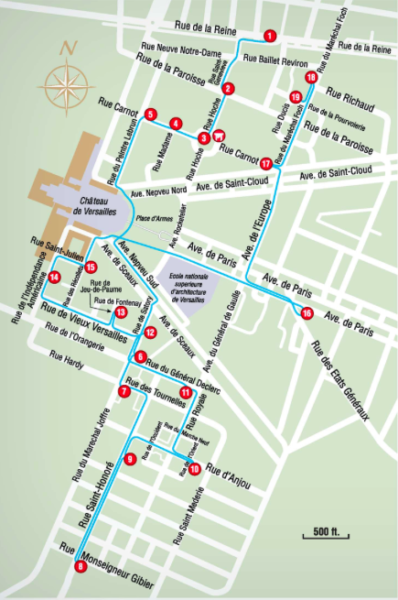 Walk with us through the village of Versailles during the early days of the French Revolution. You will visit the exact sites where the Revolution was born during the summer of 1789 (e.g., the Tennis Court oath, the meeting site for the Estates-General, and the café where members of the Breton Club–forerunner of the Jacobin movement–met each evening). You will see where the Revolutionaries lived, ate, worked, and played (e.g., Robespierre, Pétion, and Mirabeau's respective apartments).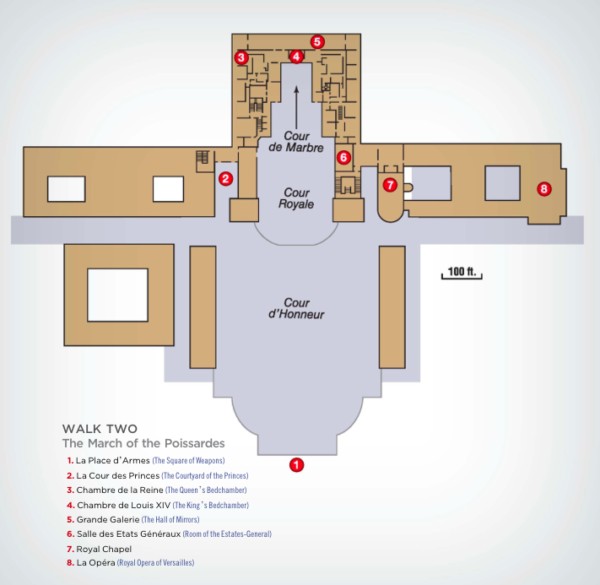 Versailles Palace is the focal point of your next walk: The Women's March on Versailles (5, October 1789). You will see the sites, rooms, and staircases in the palace where more than 20,000 women attacked the queen and her bodyguards. The next day, the royal family was escorted back to Paris, never to see Versailles again.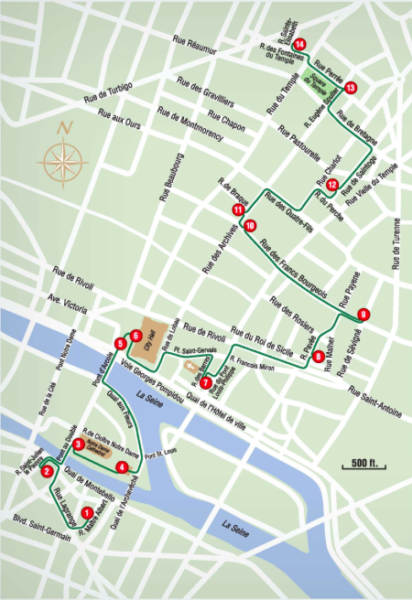 The last two walks take place in Paris. The royal family is now a prisoner in the Tuileries Palace. The Revolution begins to deteriorate with the September 1792 massacres. You will stop at the site of one of the most feared prisons in Paris: La Force. The site of the former Knights Templar headquarters, The Temple, is one of the last stops on Walk Three.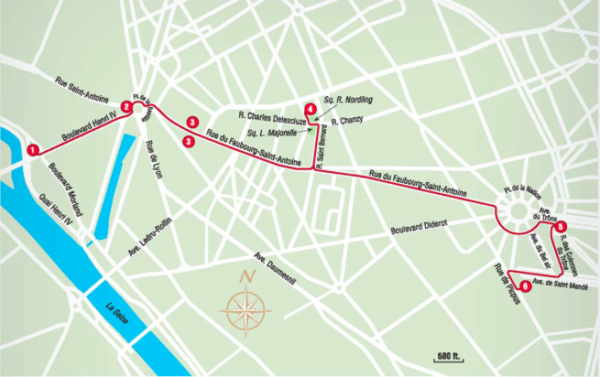 It is the final prison for the royal family. Here, the king begins his journey on 21 January 1793 to the guillotine, Marie Antoinette is taken to the Conciergerie, their son, Louis XVII, is murdered in the tower, and their daughter is finally released in December 1795.
Includes a detailed appendix with a listing of the players in the French Revolution, the Revolutionary Governments,  a time line of the French Revolution, Guillotine sites, recommended reading and internet site resources.
What Our Readers Are Saying
"As an amateur tour guide of Paris, I have spent years digging up tidbits and treasures of local history. When researching the hiding place of English soldiers who had parachuted in to help the resistance in WWII, I came across Stew Ross' blog and quickly realized he had already researched several of the amazing but obscure topics I love about Parisian history. Within minutes I ordered three of his walking tour books and recommend them highly.
The walking tour books are fun (a lot of fun) and very helpful for visitors as they not only give clear directions and have terrific layout and illustrations, they also include lots of tips and insights found nowhere else. Having read dozens of Paris walking tour and history books, these ones are definitely the most user friendly and focus on what's interesting and not just what's popular. The historical writing is not your bland average tourist fare as Ross has a great eye for interesting details and has done his homework. Instead of how many steps are there in the Eiffel Tower, you get the stories of the Templar curse, why dogs were depicted so often in medieval art, where to see a king's preserved heart and much much more. Ross selects some great details and insights you will definitely appreciate and spend time discussing.
The one issue I have is that I wish he had provided more factual depth and information as the books lean towards being user friendly more than fully fleshing out the history and details. Each entry has me wanting to know more, which I am sure the author would love to tell (see his blog for additional stories), but it is not easy balancing readability and walking tips with Paris' rich history. Ross and his books do a terrific job made more impressive by the fact that he seemingly published them on his own. Impressive in many ways, these books deserve a wide readership." Where Did They Burn The Last Grand Master of the Knights Templar?-Jacques de Molay's Curse Volume 1 A Walking Tour of Medieval Paris Where Did They Put the Guillotine?-Marie Antoinette's Last Ride: Volume 2 A Walking Tour of Revolutionary Paris  Where Did They Put the Guillotine?-Versailles to the Faubourgs: Volume 1 A Walking Tour of Revolutionary Paris
CF–Amazon July 24, 2017
"On a recent family trip to Paris, my son wanted to do a French revolution tour. But having listened to 50+ episodes about it on the "Revolutions" podcast, we wanted something more detailed, and more flexible, than we could get with a typical 2-3 hour guided tour. These books by Stew Ross were so exactly what I was looking for that I can't believe they exist. There is the right amount of historical background, and pragmatic information about what to see and how to do it. Thanks very much to the author for writing these!"     Ingvar–Amazon August 7, 2017
 "I've been taking my students to Paris for 20 years, and I have stood on these spots and before these books, I have never known the significance." – Private School French Teacher from Nashville 
A truly unique travel book. History enthusiasts will be delighted by the description of events and the corresponding identification of where the events happened. – Theresa Fuller & Bob Laws, World Travelers
Mr. Ross brings the streets of Paris to life, making it possible for you to stand on the very spots where the grand and tragic events of the French Revolution took place. If you are looking for more than just the typical tourist experience in Paris, then this book is must reading! – Dan Carpenter, Historian and Author
Stew's passion for history really shines through! Fabulous tips for touring Paris and Versailles with pertinent facts noted in blue.  A must have guide book and great synopsis of this historic era. – Susan Abernethy, Historian and Professional Blogger on History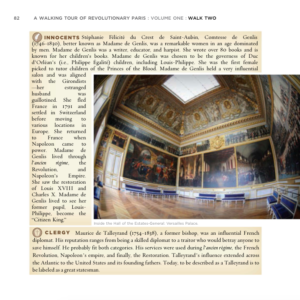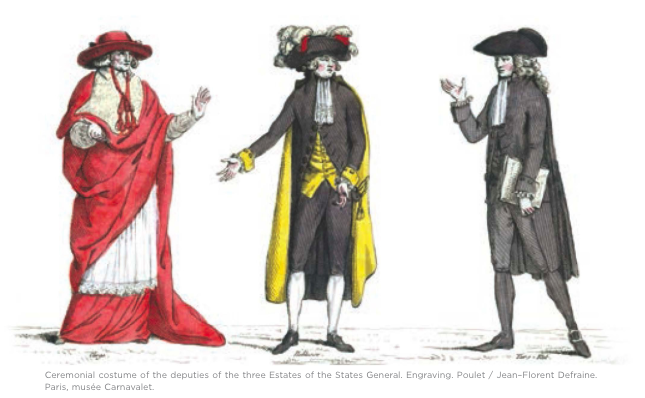 Available on Amazon in paperback and Kindle versions and on iBooks.
Electronic publication versions:
Each walk stop address contains a Google Maps link.  Multiple links are included to web-sites for additional information on the sites.
We understand how confusing the e-book market can be. Before you purchase the e-book version of this book, please click on Amazon's buy button. You will see the various devices that support this book. Although Amazon lists "Paperwhite" as a supported device, we have found it is not. A good rule of thumb for a successful download is to use Kindle Fire devices or the Kindle app on iPad. This book is not read well on devices smaller than a tablet.
Copyright © 2018 Yooper Publications LLC